Easily Frame Your Diamond Painting!
Framing your diamond painting has never been easier! Display your masterpiece on walls around your home to showcase your finished work. Continuing the theme of DIY art, our frames follow a very simple process to be set up. 
Instructions:
1. Place painting face down on a flat surface.
2. Place the correct length wood frame along the white edges of your canvas.
3. Using a pencil, trace the edge of the painting to create a long straight line.
4. Peel back the adhesive back of the frame bar and stick it to the correct side of the painting.
5. Repeat the same process for all sides of the canvas.
6. Cut the corner of each side of the canvas diagonally from the edge of the canvas all the way to the first diamond.
7. Pivot the wood bar frames upright and connect them. The adhesive surfaces will cause the bars to stick together.
8. Place the wooden wedges at the corners of the canvas where the bars connect. Firmly wedge them between the center crack in the middle of the bars.
9. Using the metal staple, connect the corners of the wood bar frame. Hammer any stubborn staples into place.
10. Cut the extra corners off the edge of the canvas.
11. Hang up the finished product in your home for all to see!
Create Dazzling Art, One Diamond At a Time
REDUCE STRESS AND ANXIETY - Life can get pretty stressful at times, so why not ease your stress with the world's most stress-free, new craft hobby? Our diamond kits are proven to lower stress and anxiety levels by diverting your attention from the every-day pressure of life to a peaceful and calming activity. Simply sit down, zone out and feel your stress and anxiety subside.
SHOWCASE YOUR MASTERPIECE - Nothing is more satisfying than making something beautiful with your own hands. With our 5D Diamond Painting Kits, you get to have that satisfaction time and time again. Create wonderful gifts for friends and family or simply frame and hang up your finished masterpiece for all to marvel at.
ENTERTAINING FOR KIDS AND ADULTS - You don't need to be Picasso to get started with your very own 5D Diamond Painting Kit. They are extremely easy to use, making them great for kids and adults alike. This is a perfect activity for family fun. We do not recommend our diamond kits for use by children under 10 years old.
FULL CANVAS 5D DIAMOND PAINTING KIT - Each kit comes with everything you need to get started on your masterpiece! Each box includes a 100% full-drill canvas, individually packaged diamonds, stainless-steel tweezers, a double-sided diamond pen with a comfort cushion, a wax picking pad, and diamond storage baggies. (Double checked before shipment to ensure accuracy).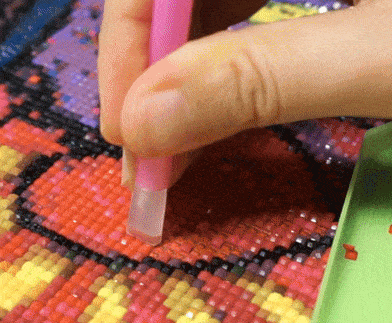 Includes Everything You Need to Get Started!
Premium color coded canvas.

Pair of extra sharp tweezers

Diamond pen tool with grip

Wax pad

Grooved organizing tray.

Plastic bags for extra diamond storage.

Accurately colored resin diamonds (different colors in labeled packages).

English printed instructions.
How to diamond paint
Creating a Masterpiece Has Never Been So Easy!
Creating your diamond art painting is a straightforward, five-step process:
Open one of the diamond packages and carefully pour diamonds into the grooved organizing tray.

Gently shake the grooved organizing tray so the diamonds are facing rounded side up.

Press the tip of diamond pen tool into the wax pad.

Pick up each diamond by pressing the diamond pen tool to the diamond's rounded, faceted side.

Apply each diamond to the adhesive canvas template, placing it using the color-coded chart as your reference.
Our Guarantee


Buy With Confidence
We truly believe in having an exceptional customer experience. All our products are backed by a 30 day money back guarantee! That means that if you are not 100% satisfied with your order we will issue a full refund. Terms and conditions apply. 
Please email us at support@legendarydiy.com at anytime if you need assistance and one of our team members will respond within 24 hours.